Text goes here for each line
WHAT YOU GET
Listen to ANY of our 1800+ lessons to help you speak fluent English
You pick the topic • We've got the lesson
Listen to as many lessons as you want
Listen anywhere on your phone, tablet, or computer
Understand every word with complete transcripts & Learning Guide
Freedom to cancel anytime!
Is UNLIMITED ENGLISH Right For Me?
You are an intermediate or advanced-level English learner
You want to improve your conversational English in all areas and topics
You want to be able to listen to as many lessons each month as you want
UNLIMITED ENGLISH

is Right For You!

Not sure if our lessons are right for you? Try our free lessons here.
On your computer, choose any of our 1800+ lessons to stream (with Internet connection) the audio and read the Learning Guide.
Listen to as many as you want to each month - it's unlimited!

On Android, you can login and stream from our website.

On an iPhone or iPad, you can use the Teachable app to stream or download as many lessons as you want. Download the app, log in to your account, and you're ready!

Note: Once your membership expires (ends), you cannot listen either on your computer or your phone, even if you downloaded the lessons on your iOS device. You must be a paying, monthly member to listen to the lessons.
Daily English
(ESL Podcast)
Daily English lessons are dialogues and stories using conversational American English. You get detailed explanations of how to use each of the key expressions and idioms.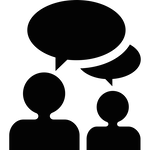 Learn English conversation in 17 useful categories - over 1800 topics, including:
Business
Travel + Transportation
Daily Life
Money
Shopping
Health + Medicine
Entertainment + Sports
Relationships + Family
Each lesson contains:
Audio: about 20-minute lessons
+
Written: 8-10 page Learning Guides
Cultural English
(English Cafe)
Cultural English lessons contain information to help you understand the United States and American culture. Learn English as you learn about the U.S.

Learn English through American culture and history - more than 2,000 topics:
Holidays and Festivals
American Writers and Artists
Famous Places, Cities, and States
Popular Movies
Well-Known Books
Presidents, Politics, and History
Common English Language Questions and Answers
Each lesson contains:
Audio: about 30-minute lessons
+
Written: 8-10 page Learning Guides
UNLIMITED ENGLISH™
$29.00 per month
Listen to 1800+ lessons
Stream lessons on your computer
Download lessons on iPhone/iPad
Listen to as many lessons each month as you want!
Use on any smartphone, tablet, or computer
Convenient, monthly membership
Audio lesson + written guide for each lesson
Daily English + Cultural English lessons
Cancel anytime!
<!- Old FAQ Deprecated -->